Ingliston Country Club & Hotel gets a brand refresh.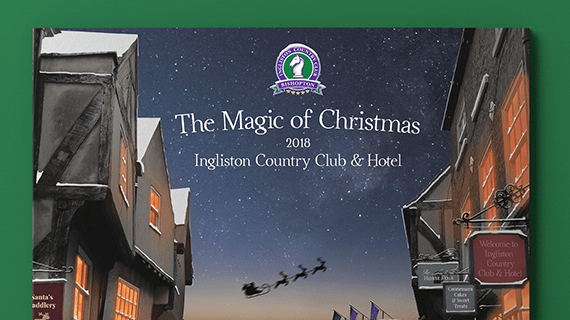 ---
Ingliston Country Club & Hotel
have

reinvigorated

their brand, with an updated brand identity which we applied across a new website, key brochures and a digital marketing campaign.
---
The team at Ingliston identified that they wanted to slightly tweak their brand an just gently point it in a new direction. The aim was to Elevate the brand and add some more sophistication and elegance to reflect their standing as one of Glasgow and Scotland's premium wedding venues.
We produced a new brand style and style guide, giving them a new typographic approach and photographic treatment style. This was applied across the brands assets both online and off.
New website working for both customer and company.
Ingliston Country Club & Hotel Glasgow lives and breathes weddings, they provide wedding parties a truly magical experience from start to finish. As such, Ingliston required an equally impressive, robust and user friendly website that promotes the quality, excellence and elegance throughout it. Working closely with the Ingliston team, we were able to produce a new website design that improved on the user experience and delivered an improved commercial function. We increased online bookings for their hotel, lodges and restaurant, as well as generating leads for weddings.
Digital & Print Brochures
Hand in hand with the web design and web development, we worked closely with Ingliston to reimagine their wedding, conference and Christmas brochures, to show the full Ingliston experience. Our aim was to truly give a genuine representation of what this fabulous venue could offer, while also providing commercial tools that enabled sales. We created both digital interactive pdf brochures that linked to booking landing pages on the website and printed versions to make an impression.
Capturing a sense of luxury with Photography
We art directed photo shoots capturing all aspects of the Ingliston offering, interior photography of the rooms and lodges, exterior photography of the grounds and luxury outdoor hot tubs, food photography for Palomino's restaurant and people photography, capturing the faces of the proud Ingliston Hotel & Country Club team. This was all treated with the new brand photography style that we had set out in the new brand guidelines.
Please check of our portfolio page on the Ingliston Country Club & Hotel, where we share more insights into the project and images of the fantastic work Strive Digital have done.